Panoramic view over Rotterdam
Ocean Wine Bar
Time for some relaxation? The Ocean Wine Bar is the ideal place to relax on board of the ss Rotterdam. You can enjoy a good glass of wine or one of our High Wine arrangements. We offer High Wine. The High Wine take place between 15:30 and 17:30 o'clock. All of this with a beautiful view over the skyline of Rotterdam. The Ocean Wine Bar is where the cruising years relive. Meet each other on this great location!
In the Ocean Wine Bar we relive the cruising years and serve delicious wines selected by our sommelier Daniëlle van Antwerpen. Meet each other on this great location!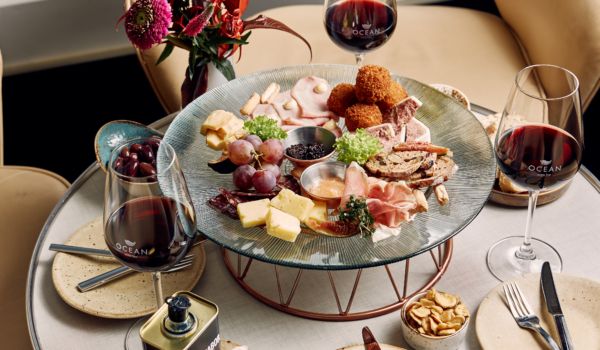 High Wine
Our High Wine serves three courses with a selected wine per course. At the first course we serve a glass of bubbles with delicious  bites, like our Greek Kalamata  and Spanish Gordal olives. The second course offers a glass of our white wine, with fish dishes. At the last course you get meat dishes with a selected red wine. The price for a High Wine is € 32,50 per person.